Love And Light Wellness in Inglewood, California (CA)
Non-representatives - add comments:
Overall Rating:

1.0
Ratings in categories:
Program:
n/a
Fundraising:
n/a
Expenses:
n/a
Transparency:

1.0
1 User Review:
T Hathaway
Added on
Dec 28, 2015 9:02 PM
Visited on
Dec 23, 2015 3:00 PM
Last week there was a person collecting donations in front of Target, Rancho Santa Margarita in California.
The name for her non-profit was "Love and Light Wellness," which she claimed was to provide meals to homeless families for the holidays. The tax id on the card she provided (after I gave a donation) has an extra digit, so it did not result when I searched for it online.
However, searching by the organization's name resulted in multiple tax ids (or EINs) and numerous residential addresses. One website lists the organization as not being active for the last four years. The name does result on the IRS website search, but again with a different tax id (45-5178543).
There is a paucity of information on the organization's financials and any specific services offered. There is a Facebook page which only has some inspirational photos, but no specific services listed or recent activity. The president, Ms. Lefika, has a similar entity listed on LinkedIn as a "Love and Light Wellness Room and Board."
The card provided states the following contact info and tax id:
1458 w 49th street
Los Angeles, CA 90062
(323) 903-5044
loveandlightwellness.com
tax ID: 15-00029044
Hopefully this is a legitimate non-profit organization and it's just not well documented.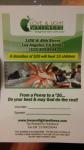 Would you recommend Love And Light Wellness to others? No
+ That's helpful!
|
Report review
Love And Light Wellness respresentatives - respond and add information
Recently Added Reviews
Love And Light Wellness in Inglewood, CA
Ackright Premier Sports Inc in San Dimas, CA
Trust Funds Inc in San Francisco, CA
Foothill High School Super Boosters Club in Santa Ana, CA
Hoi Bac Ai Phanxico Franciscan Charity Inc in San Francisco, CA
Cuddlybear Thrift Store Inc in Fortuna, CA
Apostle Paul Ministries in Hayward, CA
Adat Ari El in N Hollywood, CA
Iglesia De Jesucristo Palabra-Miel in El Cajon, CA
Nze Foundation in Vista, CA
Other organizations in California
Id
Name
Address
State
Established
Total Income
1
Los Gatos High School Alumni Association Inc
20 High School Ct, Los Gatos, CA 95030-6917
CA
2014-06
$0
2
Los Hackers, Los Angeles Makerspace
PO BOX 65756, Los Angeles, CA 90065-0756
CA
2014-09
$0
3
Los Malandrines Foundation
524 W Beechwood Ct, Tulare, CA 93274-6361
CA
2014-12
$0
4
Los Monarcas Cultural Arts Inc
6220 Covington Way, Goleta, CA 93117-1648
CA
2014-11
$0
5
Lost And Found Dogs Usa Network, Lost And Found Dogs Antelope Valley
40939 16th St W, Palmdale, CA 93551-2144
CA
2014-08
$0
6
Lost Providers Inc
14425 Sylvan St Ste 226, Van Nuys, CA 91401-2649
CA
2014-05
$0
7
Lotts House And Recovery Inc
12 Garden Flower Ct, Sacramento, CA 95833-1360
CA
2015-04
$0
8
Lotus Garden Foundation
5042 Wilshire Blvd Ste 506, Los Angeles, CA 90036-4305
CA
2013-09
$0
9
Lotus Light Children Charity Inc
11041 Santa Monica Blvd Ste 715, Los Angeles, CA 90025-3523
CA
2014-12
$0
10
Louis And Gladyce Foster Family Foundation
10100 Trinity Pkwy Ste 310, Stockton, CA 95219-7240
CA
2015-03
$0
11
Love And Light Wellness
621 N Market St Apt 26, Inglewood, CA 90302-3076
CA
2014-08
$0
12
Love And Unity Church Outreach Ministries
16235 Lakewood Blvd Apt 33, Bellflower, CA 90706-5154
CA
2014-07
$0
13
Love First Community Fellowship
3125 E 5th St, Long Beach, CA 90814-1411
CA
2014-08
$0
14
Love Home Inc, Love Home
119 E Beach Ave Unit 7, Inglewood, CA 90302-4420
CA
2014-11
$0
15
Love Hope
7456 Citrus Ave, Sacramento, CA 95823-3211
CA
2014-08
$0
16
Love Hope Health Organization
9668 Milliken Ave Ste 104-133, Rancho Cucamonga, CA 91730-6137
CA
2014-07
$0
17
Love House Of Prayer
11526 Quartz Ave, Fountain Vly, CA 92708-2532
CA
2013-11
$0
18
Love Life Church Of God In Christ
105 Notre Dame Ct, Vallejo, CA 94589-1831
CA
2014-08
$0
19
Love N Me
1271 Washington Ave, San Leandro, CA 94577-3646
CA
2015-02
$0
20
Love Of Christ Christian Church
5600 Marconi Ave Apt D, Carmichael, CA 95608-4401
CA
2014-07
$0