Fleta Thornton Ministries in Smyrna, Georgia (GA)
Non-representatives - add comments:
Overall Rating:

5.0
Ratings in categories:
Program:

5.0
Fundraising:

5.0
Expenses:

5.0
Transparency:

5.0
1 User Review:
Atlanta resident
Added on
Aug 9, 2015 4:42 PM
This is a great organization! They have help thousands of people all over the Atlanta and Macon Georgia area!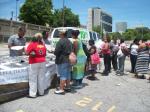 Would you recommend Fleta Thornton Ministries to others? Yes
+ That's helpful!
|
Report review
Fleta Thornton Ministries respresentatives - respond and add information
Recently Added Reviews
Orlu Regional Union Inc in Smyrna, GA
Fleta Thornton Ministries in Smyrna, GA
Hands Feet & Mouth Inc in Smyrna, GA
Holy Sabbath Ministries International Inc in Smyrna, GA
Tri-City Alcoholic Rehabilitation Association, Tara Club in Hapeville, GA
Yargo Community Concert Band Incorporated in Hoschton, GA
Carrollton Empty Stocking Fund Inc in Carrollton, GA
Beckel Inc in Roswell, GA
Renewal Counseling Group Inc in Lawrenceville, GA
Nehemiah Project Outreach Ministries Inc in Fayetteville, GA
Other organizations in Georgia
Id
Name
Address
State
Established
Total Income
1
Fall Line South Field Institute Inc
174 Cleveland Avenue, Athens, GA 30601
GA
2014-09
$0
2
Family Patterns Matter Inc
PO BOX 315, Newnan, GA 30264
GA
2014-07
$0
3
Fantasy Sports 4 Life Foundation Inc
2660 Hermitage Drive, Cumming, GA 30041
GA
2014-12
$0
4
Farms For Living Inc
177 Porter Road, Fayetteville, GA 30215
GA
2014-10
$0
5
Feed Our Family Georgia
Po Box 1991, Jasper, GA 30143
GA
2014-03
$0
6
Film Athens
1185 West Hancock Ave, Athens, GA 30606
GA
2014-05
$0
7
First Zion Christian Outreach Inc
1366 Cedar Park Place, Stone Mountain, GA 30083
GA
2014-07
$0
8
Fishermenz Group Inc
444 Highland Ave Ste 326, Atlanta, GA 30312
GA
2014-06
$0
9
Fit-In Inc
1665 Callaway Loop, Conyers, GA 30012
GA
2014-08
$0
10
Fitzgerald Community Garden
229 Benjamin H Hill Dr West, Fitzgerald, GA 31750
GA
2014-09
$0
11
Fleta Thornton Ministries
2002 Cumberland Court Se, Smyrna, GA 30080
GA
2012-02
$0
12
Focus Center
6188 Newberry Lane, Riverdale, GA 30296
GA
2014-08
$0
13
Follow Your Star Foundation Inc, Follow Your Star Foundation
4090 Abingdon Place, Cumming, GA 30041
GA
2014-05
$0
14
For Even One Inc
67 Taylor Lane, Mineral Bluff, GA 30559
GA
2014-09
$0
15
For The Love Of Missions Inc
1744 Trilogy Park, Hoschton, GA 30548
GA
2013-11
$0
16
Forest Park Teen Council Inc
Po Box 2323, Forest Park, GA 30298
GA
2014-06
$0
17
Fort O Brainery Inc
63 Paradise Lane, Chickamauga, GA 30707
GA
2014-01
$0
18
Foundation At Shakerag Elementary School Inc
10885 Rogers Circle Ste 100, Johns Creek, GA 30097
GA
2013-09
$0
19
Foundation For English Education Inc
114 London Way, Lithia Springs, GA 30122
GA
2013-11
$0
20
Foundation Of Helping Ordinary People Excel -Hope Inc
1266 West Paces Ferry Road Nw, Atlanta, GA 30327
GA
2013-12
$0