Colorado Springs Art Guild in Colorado Springs, Colorado (CO)
Non-representatives - add comments:
Revenue, Expenses, and Changes in Net Assets or Fund Balances (for 2012)
Total revenue
$3,380
Contributions, gifts, grants, and similar amounts received
$94
Program service revenue including government fees and contracts
$1,930
Membership dues and assessments
$1,356
Investment income
$0
Gain from sale of assets other than inventory
$0
Net income from gaming and fundraising events
$0
Gross profit from sales of inventory
$0
Other revenue
$0
Total expenses
$4,585
Total net assets
$1,806
Deficit for the year
$-1,205
Net assets or fund balances at beginning of year
$3,011
Other changes in net assets or fund balances
$0
Balance Sheets (for 2012)
Total assets
$1,806
Total liabilities
$0
Net assets or fund balances
$1,806
Other Information (for 2012)
Did the organization have unrelated business gross income of $1,000 or more during the year from business activities
No
Initiation fees and capital contributions
$0
Gross receipts for public use of club facilities
$0
Reason for Public Charity Status (for 2012)
The organization is not a private foundation because it is:
An organization that normally receives: (1) more than 33 1/3 % of its support from contributions, membership fees, and gross receipts from activities related to its exempt functions - subject to certain exceptions, and (2) no more than 33 1/3 % of its support from gross investment income and unrelated business taxable income (less section 511 tax) from businesses acquired by the organization after June 30, 1975
Support Schedule for Organizations Described in Section 509(a)(2) (for 2012)
2008 - 2012 Total
Total support
$27,665
Gifts, grants, contributions, and membership fees received
$9,167
Gross receipts from admissions, merchandise sold or services performed, or facilities furnished in any activity that is related to the organization's tax-exempt purpose
$18,498
Tax revenues levied for the organization's benefit and either paid to or expended on its behalf
$0
The value of services or facilities furnished by a governmental unit to the organization without charge
$0
Gross income from interest, dividends, payments received on securities loans, rents, royalties and income from similar sources and Unrelated business taxable income (less section 511 taxes) from businesses acquired after June 30, 1975
$0
Overall Rating:

3.3
Ratings in categories:
Program:

5.0
Fundraising:

2.0
Expenses:

3.0
Transparency:

3.0
1 User Review:
Arthaven
Added on
Dec 2, 2015 11:29 PM
Visited on
Nov 16, 2015 3:00 PM
Yes! They offer great variety of free demonstrations for art forms. Have outings and paint outs and a large annual Regional juried show. Around since early 1940s.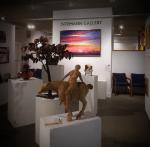 Would you recommend Colorado Springs Art Guild to others? Yes
+ That's helpful!
|
Report review
Colorado Springs Art Guild respresentatives - respond and add information
Recently Added Reviews
Pikes Peak Over The Hill Gang in Colorado Springs, CO
Adventures In Learning K12 Inc in Colorado Springs, CO
Wills Hope in Colorado Springs, CO
Hope Life Inc in Colorado Springs, CO
Colorado Springs Art Guild in Colorado Springs, CO
Fc Brighton in Brighton, CO
Destination Summit Ministries International Inc in Highlands Ranch, CO
Colorado Citizens For Culture in Denver, CO
Franklin Db Jackson National Association For Black Veterans in Denver, CO
International Vacuum Tube Museum in Evergreen, CO
Other organizations in Colorado
Id
Name
Address
State
Established
Total Income
1
Colorado Judo League Inc
2592 S Troy Ct, Aurora, CO 80014
CO
2005-01
$0
2
Colorado Lawyer Assistance Foundation
2490 West 26th Avenue Suite 260a, Denver, CO 80211
CO
1991-08
$0
3
Colorado Motor Sports Hall Of Fame
1725 S Pitkin Ave, Superior, CO 80027
CO
2003-05
$0
4
Colorado Mounted Rangers
Po Box 728, Monument, CO 80132
CO
1981-03
$0
5
Colorado Pit Bull Rescue
Po Box 2530, Longmont, CO 80501
CO
2009-03
$0
6
Colorado Recorder Orchestra
797 Nighthawk Circle, Louisville, CO 80027
CO
2008-04
$0
7
Colorado Repertory Singers
Po Box 791, Broomfield, CO 80038
CO
2003-11
$0
8
Colorado Science Olympiad Inc
6255 W Long Drive, Littleton, CO 80123
CO
1986-07
$0
9
Colorado Section Of The American Nuclear Society
Po Box 579, Evergreen, CO 80437
CO
1972-03
$0
10
Colorado Sickle Cell Association
6795 E Tennessee Avenue Suite 345, Denver, CO 80224
CO
1974-05
$24,086
11
Colorado Springs Art Guild
P O Box 1304, Colorado Springs, CO 80901
CO
1969-12
$3,380
12
Colorado Springs Fire Explorer Program
375 Printers Parkway, Colorado Springs, CO 80917
CO
2005-07
$0
13
Colorado Springs Sled Hockey Association
3337 Birnamwood Drive, Colorado Springs, CO 80920
CO
2005-04
$0
14
Colorado Springs Symphony Guild, Colorado Springs Philharmonic Guild
65 Huntington Place, Colorado Springs, CO 80906-4372
CO
1998-09
$0
15
Colorado State Badminton Association
1674 S Hudson St, Denver, CO 80222
CO
1989-08
$0
16
Colorado State Button Society
1202 Bergen Pkwy Ste 208, Evergreen, CO 80439
CO
2007-03
$0
17
Colorado State Tree Farm Committee
5075 Campus Delivery, Fort Collins, CO 80523-5075
CO
2003-12
$0
18
Colorado Trauma Network Inc
9672 South Crystal Lake Drive, Littleton, CO 80125
CO
2003-11
$0
19
Colorado Velodrome Association Inc
236 Writers Way, Colorado Springs, CO 80903
CO
1989-11
$0
20
Colorado Western Slope College Fair
235 High School Road, Aspen, CO 81611
CO
2012-08
$64,980